Maruyama in Nagasaki used to be one of three major flower quarters in Japan.
Here on Dejima, we will welcome you to "Nagasaki Kemban" performance which inherits its tradition.
~Romantic Dance with romantic history~
You might try playing a Japanese bell and a Japanese drum for the Geishas' dance performance.
Venue:2nd floor of Chief Factor's Residence on Dejima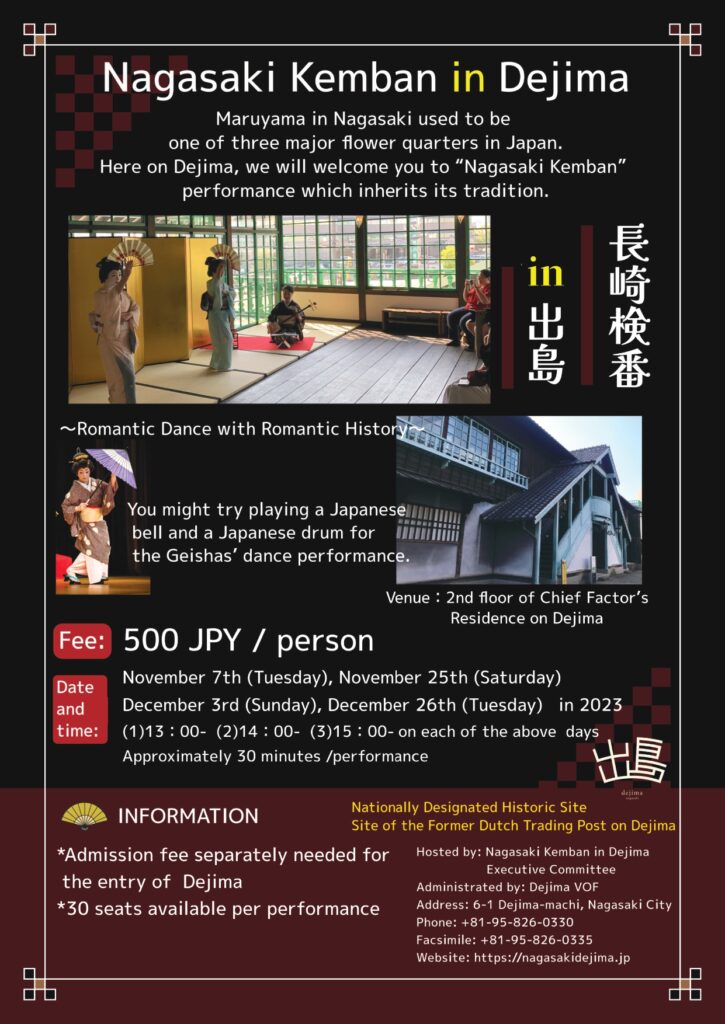 Fee: 500 JPY / person
Date and time: December 3rd (Sunday), December 26th (Tuesday) in 2023
(1)13:00-
(2)14:00-
(3)15:00-
on each day Approximately 30 minutes /performance
*Admission fee needed for the entry of Dejima separately
*30 seats available per performance
*You might reserve by making a phone call or by Clicking on the URL(https://forms.gle/BTsQZdjVogxhPW7W7)
(9:00 – 18:00 on business days)
Nationally Designated Historic Site
Site of the Former Dutch Trading Post on Dejima
Hosted by: Nagasaki Kemban in Dejima Executive Committee
Administrated by: Dejima VOF
Address: 6-1 Dejima-machi, Nagasaki City
Phone: +81-95-826-0330
Facsimile: +81-95-826-0335
Website: https://nagasakidejima.jp